Paul Flasha Contracting started out in 1977 as a one-truck operation hauling sand, gravel and black dirt locally in the Whitecourt area. In 1990, the company expanded to include a second truck, and in 1998, it acquired a gravel pit near the Athabasca River. Today the company includes gravel trucks, loaders, and a 2008 Elrus crushing spread, multiple pits, and the ability to mobilize up to 20 trucks to serve projects large and small. See Equipment page for our full line of equipment.
Paul Flasha Contracting now offers a full line of specialty rock products, as well as aggregate materials ranging from manufactured fines to surfacing aggregates and granular base course. Paul Flasha Contracting is one of the premiere suppliers of insulating gravel in Alberta, consistently meeting and exceeding the specifications for both ATCO and AltaLink insulating gravel. Please see the Products page for more information on the products currently in stock, and products that can be custom ordered for your job.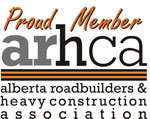 Paul Flasha Contracting also offers custom gravel crushing at outside locations. Consult our Services page for more information.
Safety is a top priority at Paul Flasha Contracting. With a Certificate of Recognition (CoR) from the Government of Alberta, in partnership with the Alberta Road Builders and Heavy Construction Association, Paul Flasha Contracting operates with the highest level of safety and accountability to its clients and employees.
Please click here for a copy of our CoR in PDF format. Please click here for a copy of our ISNetworld Membership Certificate.